San Francisco International's (SFO) three-story, 354,158 square foot passenger boarding facility has twelve gates for international flights and is connected to the new International Terminal.
Unique Challenges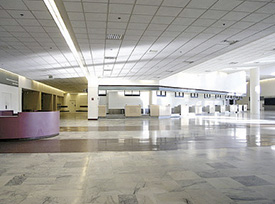 The airport is located in a muddy tidal area of the bay, requiring us to start by driving over 700 friction piles in a very precise matrix to perfectly match the column layout of the future terminal. This project was subject to a wide array of official jurisdictions with responsibility for the impacts of this project — from local to federal — along with a high degree of political and special interest sensitivity. This required an exceptional degree of coordination and communication with all interested parties. Creating and executing our work plan to accommodate not only a traditional team of designers and contractors, but also work with these many authorities was a significant challenge that made our successful delivery of this project an especially satisfying accomplishment.
The structure of the terminal was complicated by the potential for extreme seismic loads in the San Francisco Bay Area and with SFO's proximity to the San Andreas fault. To address the issue, the steel framing was segregated vertically by seismic joints, which provides for an amplitude of motion of nearly two feet at the top of the structure.