Miller Dining Hall is a $15 million renovation of the 1960's-era building situated between the North and South Hedges high rise dormitories. This complete renovation , including structural, mechanical, and electrical upgrades, was intended to meet the demands of the rapidly growing student population at Montana State University (MSU).
A year deep into active construction, TM was asked to assume the role as Project Manager for Montana State University. We therefore assumed management responsibilities with only four months remaining before the scheduled August 2015 grand opening. We had our work cut out for us.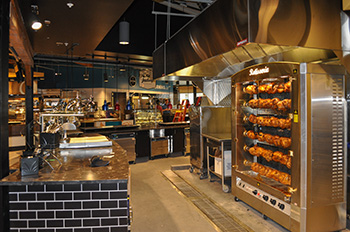 In addition to managing the design and construction team, TM coordinated the custom furniture, specialized kitchen equipment installation and startup, branding and signage for all food vendors, interior finishes, startup and commissioning of HVAC systems, health and fire inspections, and training on all new equipment.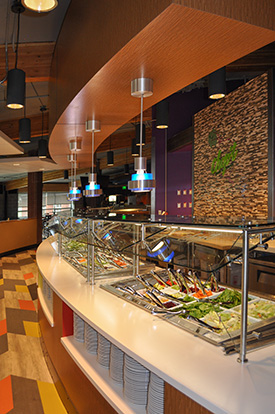 TM smoothly integrated into this complex ongoing project successfully by managing MSU expectations and closely coordinating with and between MSU employees, contractors, engineers, architects, health inspectors, and the Fire Marshal —all critical to the resulting successful, on-time delivery. Miller Dining Hall was updated to a contemporary facility which included the following food vendors:
Tamari Mongolian Grill & Wok
Blaze Burger Bar
Grazer's Smoker & Rotisserie
Toscana Pizza & Pasta Bar
Picante Mexican Concept
Homestyle Comfort Food
Chop't Soup & Salad Bar
The Nook Breakfast Bar
Froth & Foam Espresso Bar
Indulgence Bakery
406 Deli